Genre: Gay Romance
Sub-Genre: Modern Paranormal Mystery
Publisher: MLR Press
Synopsis:
After a mysterious package arrives on Jake's doorstep, he starts having very strange dreams: when he falls asleep he finds himself in a dilapidated English Manor inhabited by a number of ghosts who believe he can  free them from their eternal existence. But when the Lord of the Manor appears in Jake's living room, Jake finds himself facing some very difficult questions. What should he do about the attraction between him and this turn of the century living ghost? Why is someone trying to kill them in their dreams? And what should he wear to the upcoming Halloween party?
Available from:
Genre: Contemporary Gay Romance
Publisher: Dreamspinner Press
Synopsis:
After being attacked for standing up for equality, Travis "Rook" Rookford falls into a coma. At his bedside sits fellow student Leon Capper, there to keep his new hero company. Instead he finds a boyfriend in nurse Warrick Kwok.
When Rook wakes with amnesia, he thinks Leon is his boyfriend—which surprises everyone, given Rook's prior dating pattern. With everything that's going on, Leon has a hard time telling Rook the truth—and Warrick's possessiveness grates on him enough that he isn't sure he wants to. Between the stresses of studies, Rook's upcoming court appearance, and the pitfalls of new love, Leon has to work out how to set Rook straight. Maybe after that he can finally tackle his Christmas shopping.
Available from:
Mr. Perfect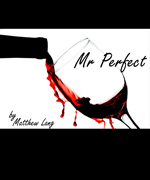 It is officially the worst night of Lex's existence. For starters, he's dead. Notice I said, 'for starters'. The Dead Man Walking* has been hired out by a group of Vampire geeks. And right now, Lex is really wishing he'd bothered to check their reflections in the mirror. Featuring cocktails, footnotes, three sheep and a duck, Lex may have finally found his Mr. Perfect. The question is. Mr. Perfect what?
*formerly located at 228 Nicholson St, Footscray, Melbourne, VIC, 3011
Placed equal second in the Midsumma Sex Write Off competition 2010.
Available as:
Inheritence – A Lex Cranbourne Story
Lex Cranbourne has adjusted to his unlife as a creature of the night–mostly. The unspoken divide between the living and vampiric is sometimes hard to take, and Lex has consoled himself to a lonely life. When a hot young man dares to push past his barriers to find his buttons, Lex has to decide whether or not he can let someone in. Featuring a vampire, half a cow, and no geese whatsoever.
Sequel to Mr. Perfect
Available as:
Screens
Genre: Gay Fiction Short Story
Publisher: Originally published by banQuetPress
Synopsis:
Modern tech junkie Dirk spends his days webcamming with hot guys over gay chat sites–including today. Only today his best friend Fiona's dragging him out for a night on the town. But is it really better meeting someone in person as opposed to over the internet? And which is truer to reality: the persona we affect in person or the one we show the world online?
Available as: