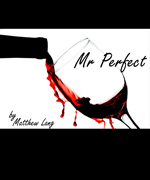 It is officially the worst night of Lex's existence. For starters, he's dead. Notice I said, 'for starters'. The Dead Man Walking* has been hired out by a group of Vampire geeks. And right now, Lex is really wishing he'd bothered to check their reflections in the mirror. Featuring cocktails, footnotes, three sheep and a duck, Lex may have finally found his Mr. Perfect. The question is. Mr. Perfect what?
*formerly located at 228 Nicholson St, Footscray, Melbourne, VIC, 3011
Placed equal second in the Midsumma Sex Write Off competition 2010.
Available as: