I don't know about you, but I'm not quite ready to give up on Christmas–I'm stuffed, probably a few kilos heavier than I was this time last month, and still have leftovers in the fridge. So for the final touch of Christmas this year, please welcome the amazing Karenna Colcroft, who's new book, Tofurkey and Yams, is now out at MLR Press.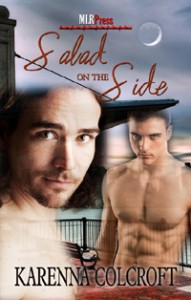 Story 3 in the  to Real Werewolves Don't Eat Meat series, I asked Karenna what the story behind the story was.
It's part of my Real Werewolves Don't Eat Meat series. Book one in the series, Salad on the Side, which MLR Press released in June, introduced us to Kyle Slidell, vegan turned werewolf (who still refuses to eat meat, even in wolf form) and his mate, Tobias Rogan, the too-serious pack alpha who's afraid to be seen as weak. Book 2 in the series, Veggie Burgers to Go, will be out soon. When I saw Kris Jacen talking about Christmas stories that some MLR authors were doing, I said I wanted to write a story about Kyle and Tobias's first Christmas together, and she told me to go for it. So here we are.
For those who are curious, Tofurkey and Yams takes place about three months after Veggie Burgers to Go, or about six months after Salad on the Side.
Does this mean you can give us a sneak preview of Veggie Burgers to Go?
A member of the Boston North Pack is attacked by humans who say they were hired by a shifter. The same night, Melia, the wolf who changed Kyle Slidell, returns to Boston. The pack suspects Melia of arranging the attack, but Kyle believes someone else is behind it. He just doesn't know who.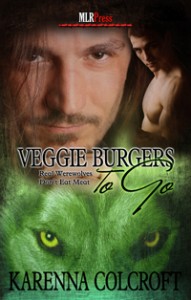 The next day at the regional alpha meeting in Pennsylvania, Kyle finds his answer. Saul Hughes, another alpha, has a long-standing grudge against Tobias. Saul claims Tobias is too weak to control a pack and makes it clear that he wants control of Boston North. But no one suspects how far he'll go to get it.
So, aside from your books—which everyone should buy—what do you think is a failsafe Christmas Gift?
I think you can't go wrong with a gift card. I know a lot of people think those cards are impersonal, but honestly if you don't know what to buy for someone, what's wrong with letting them choose for themselves? You don't have to buy a card for a specific store; you can get them a prepaid "credit card" gift card that they can spend wherever and however they want. 
What do you love best about this time of year?
The way my younger daughter enjoys getting ready for the holiday. I'm kind of a humbug myself; if you read Tofurkey and Yams, the way Tobias views Christmas is pretty much my viewpoint. But my daughter still gets excited about it and loves to decorate the house and talk about all the presents she's giving people—and pets—and that makes the holiday better for me.
What's your best Christmas Recipe for dinner party success?
Make hubby take care of it. He's a great cook!
What the heck is Tofurkey? Does it really exist? Is it yummy?
Tofurkey is tofu "turkey". It does really exist; it's a vegan alternative to turkey. I used to have a friend who was vegan, and tofurkey was his Thanksgiving dinner of choice, as well as his usual Christmas dinner. I've never tasted it, so I don't know if it's yummy or not.
Want to find out? Check out Tofurkey and Yams today!
After an autumn spent recovering from the deaths of two friends, Kyle is ready for the Christmas spirit to make everything better. His grand plans to make his and Tobias's first Christmas together a special one crash down when Tobias rejects them and then leaves town. Kyle follows him to the pack's hunt site, where he tries to bring back the joy of the holiday to Tobias's life.
Do you have any tips for post Christmas recovery? I don't know about you, but I've eaten far too much!
The best tip I can give is to exercise. Whether it's taking a walk outside (if you're someplace warm enough to do that), visiting the gym, or walking in place in your living room, try to get at least 15 minutes or so of exercise a day, more if you're a regular exerciser. It will take care of that extra holiday food, plus help battle post-holiday let-down. 
All good advice, and given that I'm in summer right now, I might have to try for that walking thing.
Find out more about Karenna and her books on her website; friend her on Facebook at  or follow her on Twitter @KarennaColcroft.
Comments
comments