Christmas is just around the corner, and in celebration of the festive season, I'm very happy to introduce the fantastic Charlie Cochrane, author of Wolves of the West and one I owe a great debt to for the fantastic advice she gave me when I was first starting out. She does, of course have a fantastic new story out, entitled What You Will, which is out right now, but I started by asking her what the funniest Christmas Memory she had that she'd like to share with you all.
So many to choose from. The year the younger Cochranes ate so much they had to lie on the dining room floor? The Christmas Mr C put so much sage in the stuffing it tasted like disinfectant? The year I ended up buying two lots of pressies because I'd misplaced the ones I bought earlier in the year and put "somewhere safe"? The Christmas people sat sending each other blackberry messages from settee to settee as they didn't like what was on telly? The year I had to label all the food so it wasn't eaten before the appointed day? Oh, hold on – that's every year!
Aside from What You Will—which everyone should buy—what do you think is a failsafe Christmas Gift?
Boring answer – Amazon vouchers. Then everyone can get exactly what they want.
More interesting answer – something linked to a particular family/friendship event. Specially made mugs with holiday pictures and catchphrases. Personalised calendars or cards. There are loads of companies producing them and they're really cost effective.
What inspired your new story, What You Will?
Shakespeare himself. He's got two plays – Merchant of Venice and Twelfth Night – both of which feature guys called Antonio, both of whom seem to be in love with younger men. And both the younger men are pretty ungrateful wretches. They take Antonio's money, let him risk his neck for them, then run off with women! I've often wondered if the based the character on someone he knew, who'd been taken for a similar ride.
Anyhow, I've always wanted to write a "fix it" version of the Twelfth Night story – especially after seeing the wonderful version of Twelfth Night at Chichester (Patrick Stewart as Malvolio) in which the gender complications were accentuated). When this series of stories came up, I knew my idea had found a potential home, especially when i added a bit of steampunk (another thing I've long fancied dabbling in).
What's your best Christmas Recipe for dinner party success?
Best recipe is not to try anything too OTT and fiddly, especially if that a) courts disaster and b) risks you not spending enough time with your guests. They've come to you for your company, not to be waited on by Michel Roux, so be with them, chat with them, marinate them with wine. If you must be in the kitchen, take them in there too, while you cook.
Don't sacrifice the social to the culinary – there are plenty of great recipes which taste spectacular although they're really easy to prepare and serve. Try looking on the Waitrose site – here's a starter: Mushroom and Chestnut Pudding with Rich Red Wine Sauce. 

You say you only write (occasionally) about respectable gay werewolves. What's the difference between a respectable gay werewolf, and a gay werewolf of disrepute?
Respectable gay werewolves hold jobs in such places as the Natural History Museum or the V&A. They convene in the hallowed halls of one of these on the night of the full moon so that any shifting can be undergone in a decent manner and in salubrious surroundings. They don't howl at the moon, just bay politely. Nor do they look for human prey, preferring a fox or a feral squirrel. Or rooting around the bins at the back of the Indian restaurant.
They listen to frighteningly intellectual lectures related to lycanthropy, lectures involving mitochondrial DNA or cross species breeding in the Red wolf. They watch rugby, not football.
Generally, they're the sort of werewolf you wouldn't mind as your neighbour and who you'd vote in for membership of the golf club.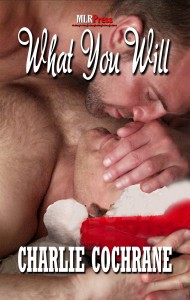 So I can't confirm Werewolves, but I can confirm an homage to the great Shakespeare himself (or themselves, if you believe certain theories out there in literary circles). And a Charlie Cochrane (TM) take on Twelfth Night? Do yourself a favour and get your copy now:
They say there's no fool like an old fool. Antonio didn't count himself as old but he was more fool than any man ought to be who's flown around the world and back again so often he might as well have just been going from Deptford to Dartford. There was a lad involved. There's always a lad in the tale,  for such as him.
And was there a happy ending? Now that depends on whether you believe what a certain playwright wrote, or whether you want the real story.
Want more Charlie? Find her on Facebook, or Follow her on Twitter!
Comments
comments