I can't believe the launch is only three days away, and things are looking good. The print copies of The Secret of Talmor Manor arrived in the warehouse last Friday and should be in Hares&Hyenas shortly–and most importantly, in time for Friday. And I've got my hands on a little preview of some of the artwork pieces Fei Mok will be auctioning off in support of the ALSO Foundation, and I thought I'd share them with you here (click the images for a larger view).
I Believe in Fairy Tales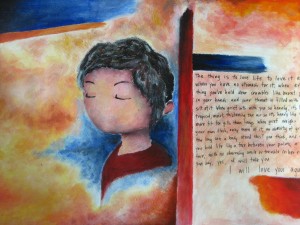 To Love Life
To Love Life–Poem detail (poetry by Ellen Bass)
See you at the launch and remember, all proceeds from the auction will be going directly to the ALSO Foundation, along with a portion of all book and Melbourne Rainbow Band CD sales.
Comments
comments